Storms Firing Up June 22, 2012
By Ralph Fato on June 22, 2012, 12:59pm
Use your ← → (arrow) keys to browse more stories.
My Graphic Map above shows current temps, Radar, and Satellite. Cold front sitting over central NY/PA with 70s behind it...But before we get relief from this heat wave we have to deal with some storms.
SPC just placed Western CT into a severe watch. http://www.spc.noaa.gov/products/md/
2 Areas where storms will develop today...
1. NEAR AND E OF DIFFERENTIAL HEATING ZONE...ASSOCIATED WITH
LOW-MIDDLE LEVEL CLOUD BAND NOW EVIDENT ON VIS IMAGERY FROM ERN PA
SWWD ACROSS VA/WV BORDER REGION. ANY SUCH TSTMS WILL POSE EARLIEST
SVR RISK FROM TIDEWATER AREA NEWD OVER COASTAL MID-ATLC AND SRN NEW
ENGLAND.
2. ALONG/AHEAD OF SFC COLD FRONT.
Be safe out there and as Gil mentioned in his video, don't park your car in a low lying area. Downpours can produce flash flooding with the amount of moisture already in the atmosphere.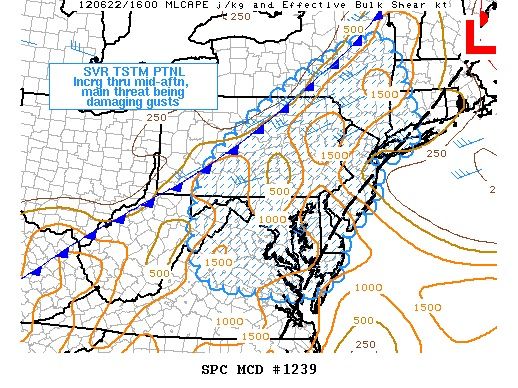 Use your ← → (arrow) keys to browse more stories.
More articles you'll like