The Cool Down Scoop July 2012
By Ralph Fato on July 13, 2012, 3:17pm
Use your ← → (arrow) keys to browse more stories.
It was warm (during the day) but "not as hot" as it was.
Lets go over a few numbers since July 4th. You can find these in the local WFO Climate Data section.
Here's what I did...
I used July 4th - July 12 Data.(before July 4th was still HOT so Im not being bias finding the hottest days)
I highlighted all the 90s and 100s in the actual highs column..
I highlighted the below normal temps in the "cool down"period after the 7th.
First let me say - When we look at the "mean" temp of a given day or month, sometimes it doesnt tell the whole story. For instance night time lows can be below normal in the 50s but we wont know it because the day time high was well above which drives the mean number above normal.
So notice a few things:
1. Left side locations are Connecticut southwards, right side is interior NorthEast/New England
2. Charleston, WV went from upper 90s and 100s to 80s
3. Bridgeport, CT never had below normal temps but only a couple of 90s. I would say this location showed best continuity.
4.Hartford, CT - Mostly 90s before July 9th well above normal then dropped to more normal levels and the nighttime lows got to normal and below, dipping into the 50s..
5. Atlantic City shows the cool down the best, All 90s before, then 80s and all below normal Highs, Lows, and Mean temps.
6. Binghamton, Burlington, Concord, Saranac Lake - All pretty much showing below normal lows after July 8th. The most interesting being Saranac Lake, NY...Check out the Low temps..Dipped into the 30s! It actually made it to the lowest temp in the Lower 48 states for that day.
7. Also interesting is the night lows for locations on the right. Even during the hot spell, some nights were going below normal.
If I went further back since end of June it would be clearer this was a much needed cool down. But with that said...its stil been pretty warm in the 80s as it should be because after all... it is summer.
Also note... South Carolina, North Carolina had well below normal temps as well and other locations in the East.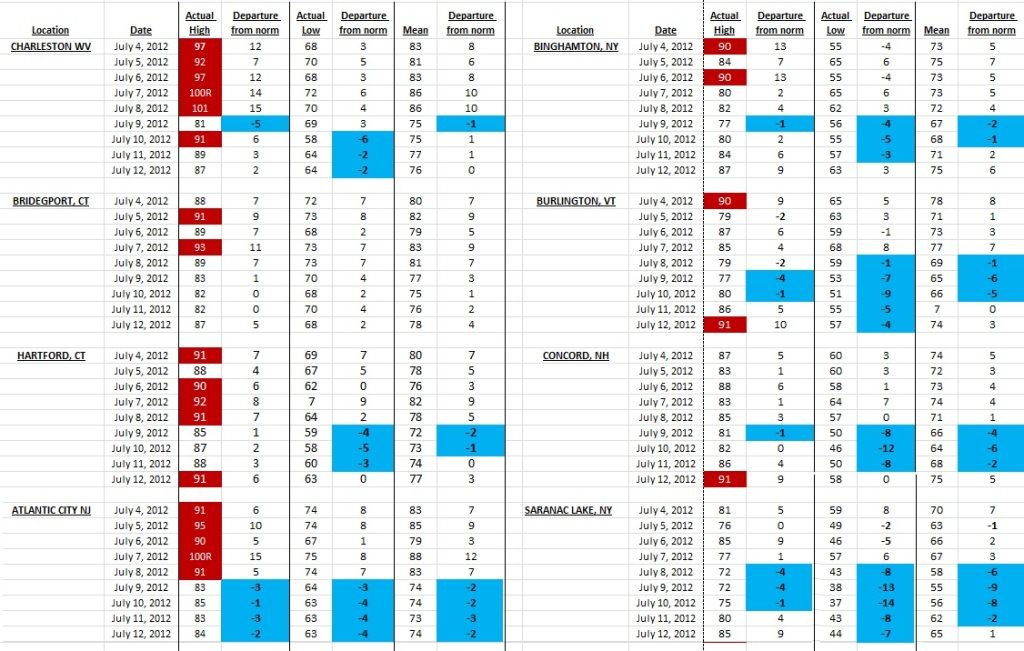 Now lets take a look at the departures from normal "mean" temps for the Northeast. >>
More articles you'll like