5:00 PM Update: A Few Big Storms Left
By Sam Kantrow on July 18, 2012, 4:19pm
Use your ← → (arrow) keys to browse more stories.
5 pm Update: Things really calming down across the state right now. All of the warnings have expired across the state, but we do have a severe thunderstorm watch in effect until 9pm across the state with the exception of Litchfield County. This will probably expire before 9 PM. There's also a flash flood warning for Hartford, Tolland, and Windham counties until 6:15pm.
4:16 PM Update: Severe t-storm warning in Litchfield County for a storm near Burlington, and another warning in New London County for a storm that's in Old Lyme right now moving ESE at 29 mph.
4:00 PM Update: Seeing the storms starting to move eastbound, but we're still looking closely at a storm in the area around Harwinton, and another strong storm in Chester. There has also been a Severe Thunderstorm Warning issued for the storm in Harwinton until 4:30.
3:30 PM Update: Things are beginning to calm down for Litchfield County, but there is still lots of action south of I-84. We're still keeping an eye on these strong storms rolling through, here's what the updated radar looks like:
2:50 PM Update: A few very severe storms, the strongest of which is in Northeastern CT. The potential for 4 inch hail in the Woodstock area. Latest watches/warnings: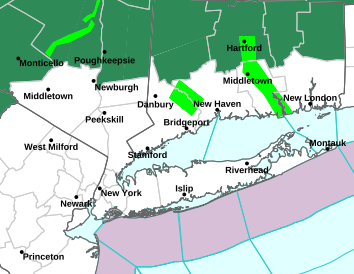 Pink indicates a severe t-storm watch, orange indicates severe thunderstorm warning, and red indicates a flash flood warning.
2:10 PM Update: Big thunderstorm heading towards Middlebury right now, another strong one in Sharon.
1:40 Update: A severe thunderstorm warning has been issued until 2:30 PM in Litchfield County. Could see heavy rain, strong winds, lightning and hail as well. Latest Radar:
1PM update: Severe thunderstorm watch across the state until 9 pm. We currently have one large hailstorm rolling by Stamford. It has potentially 1.25 inch hail, so be careful! Updated Radar:
Here's your noon update on severe storm potential across the state. Check out the image above. This is a screenshot from HRRR showing that we'll be in the thick of the action starting around 3pm.
More articles you'll like