SST Anomaly Update - El Nino Developing Nicely
By Ralph Fato on August 17, 2012, 2:14pm
Use your ← → (arrow) keys to browse more stories.
Above image is the Global SST Anomaly. Notice one thing... The warmer waters in the Pacific along the 0 degree line. (circled) Now compare them to May and you'll see that El Nino has developed.
Because the warmer waters are now closer to the crosshairs(intersecting lines) it is considered to be West Based El Nino. If the warmer waters were focused East more towards South America it would be East Based. If you are wondering what this usually translates to in regards to temperatures; take a look at the animation I put together down below.
West Based El Nino usually means Trough in East because it sends a Ridge of warm air up to the West. As usual, other factors play a role but typically West Based El Ninos keeps temps in the East below normal. Since Winter is still 4 months away we dont know if it will stay west based. Interesting times ahead.
Below is a 3 month average of the ENSO phases. (Blue=La Ninas)(Red=El Ninos)(Black=Neutral). June-July-August wont get filled in until August is through. my guess is we will be closer to +0.4 which is towards El Nino territory but not considered El Nino on this chart because it's blending June and July into it. So it will be closer to 0(Neutral)
Source: http://www.osdpd.noaa.gov/ml/ocean/sst/anomaly.html
Source: http://www.cpc.ncep.noaa.gov/products/analysis_monitoring/ensostuff/ensoyears.shtml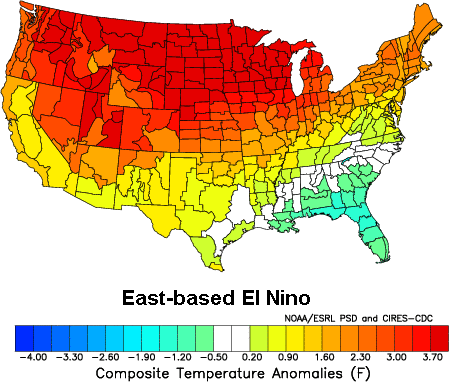 My new Facebook page: www.facebook.com/WxEyes
Use your ← → (arrow) keys to browse more stories.
More articles you'll like