September 24 & 25
By Ralph Fato on September 25, 2012, 8:43am
Use your ← → (arrow) keys to browse more stories.
Those were the temps from the 7am update(not the lows). Upper 30s entered CT in local spots. I hit 42.7.
3 Interesting things:
1. The temperature went lower in most spots than the previous night.
2. At 11pm yesterday we almost beat yesterdays morning lows.
3. Higher terrain didnt necessarily mean lower temps last night. Oxford at 728' was slightly warmer than Hartford at 13'. The 5000' level was warmer than some spots on the surface (see 3rd slide)
Lows so far this morning in Connecticut:
Bridgeport: 48
Danbury: 39
Groton: 41
Hartford: 43
Meriden: 39
New Haven: 43
Oxford: 43* (unofficial)
Willimantic: 40
Windsor Locks: 42
Here are the detailed 6am OBS reports from some NWS Stations. Notice the "calm" winds. No clouds last night allowed temps to be lower than Sunday night in many spots.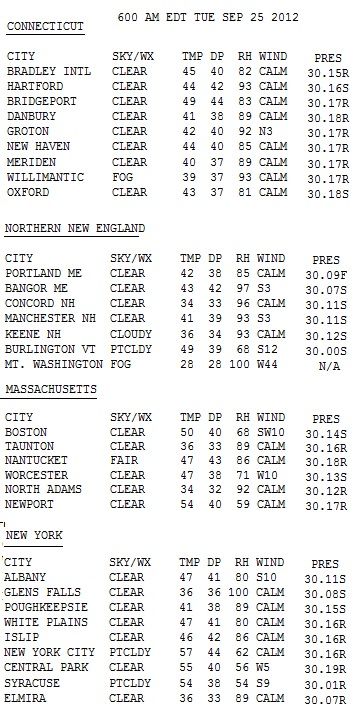 Lets look at the Actual Lows from September 24th >>
More articles you'll like